Sale!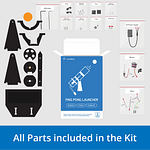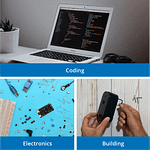 Ping Pong Launcher Kit
Want to learn how to build apps? Interested in robotics? The Ping Pong Launcher Kit is perfect for you! The Ping Pong Launcher Kit is recommended for people who have already completed the Smart Doorbell Kit or have other previous coding experience. Once you have received your Ping Pong Launcher Kit, you can follow our online interactive tutorials here!
The Ping Pong Launcher Kit will teach you the design choices that are needed to make a robotics project come to life. You will also learn how to design and code an iOS and Android application from scratch using React Native!
What you will build:
A ping pong launcher that can fire a ping pong ball 20 feet.
An iOS and Android application that wirelessly controls the Ping Pong Launcher from your phone.
Various projects of increasing difficulty that test understanding of robotics and app development.
For school orders inquire info@juicemind.com
Description
Once you complete the Ping Pong Launcher Kit, you will have the skills and tools needed to build any app or robotics project. Additionally, the projects within this kit can be showcased on your resume and college applications.

Additional information
| | |
| --- | --- |
| Includes | 1 DC motor, 1 servo motor, 1 motor driver, 1 breadboard, 4 buttons, 1 led, flat wires, jumper wires, 3 custom cables, 6V power supply, 6" plastic tube, front slider, rear slider, motor mount, left side clamp, right side clamp, track, base, vertical supports, spring retention straps, screws, allen key, plastic head screws, o-rings, spring, 1 ping pong ball, tutorials access code, and customer support Mon – Fri 9am to 7pm PST. |